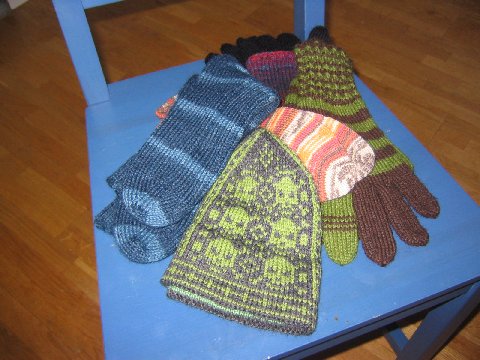 Tätähän täällä on viime aikoina tehty, laulamisen lisäksi (kts. edellinen postaus). Onneksi olen laiska enkä ole infonnut läheisiäni blogistani. Voin rauhassa esitellä kaikki joulutekeleet etukäteen. :D
Well yes, this is what has kept me busy lately, in addition to singing (see previous post). Thank God I'm lazy and haven't informed my close ones about my blog. I can show all my Christmas secrets here in beforehand. :D
Ystäväpariskuntani on lähdössä Intiaan jouluksi, kuinka säälittävää. Näen heidät tänään, kun he tulevat konserttiin ja matkansa takia he saavatkin lahjansa jo tänään. Koska he ovat rohkeita miehiä ja pitävät väreistä, vetävät joululahjanikin vertoja Intian värikkyydelle. Näitä ei sillä retkellä kyllä luultavasti tarvita.
My friends are going to India for Christmas. How pathetic. I'll see them today in a concert and they'll get their presents right away cause I'm not sure whether we'll see each other anymore before they leave. As they are brave men and like colours I made them something as colourful as India. However, these items won't probably be needed on their trip.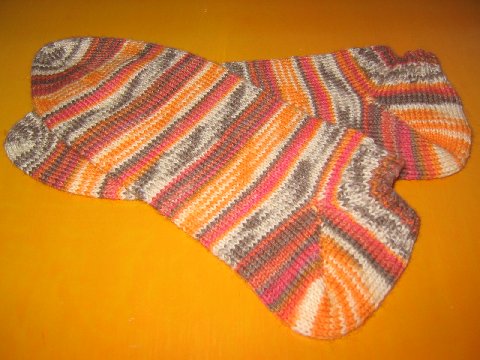 Sneakers
Pattern: none. short row heel and wedge toe. Size appr. 41-43.
Yarn: Trekking XXL no. 161
Needles: 2.5 mm dpn's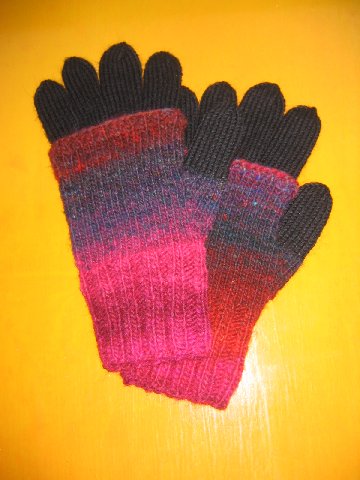 Gloves
Pattern: my own. They look like there were fingerless mitts on the top and gloves underneath, but the fingers are actually attached to the mitt. I doubled the amount of stitches couple of rows before binding off the mitt, moved the added stitches on a string inside the mitt and worked the fingers on those stitches. It gives a bit extra finish to the gloves.
Yarn: Noro Kureyon 124, appr. 45 g and almost a 50 g ball of ancient Rondo Mesikämmen on the fingers.
Needles: 3.5 mm dpn's
Muita aikaansaatuja juttuja ovat jo aiemmin vilautettu pipo sekä yhdet hanskat ja yhdet sukat.
Other fo's are the earlier showed pirate hat and a pair of gloves and a pair of socks.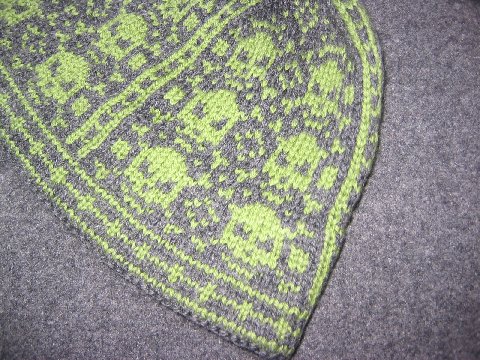 We Call Them Pirates
Pattern: We Call Them Pirates from Hello Yarn
Yarn: Schoeller & Stahl Limbo (and green Limone on the edging inside)
Needles: 3,5 circular and dpn's
As Terhi made her Pirate hat of Limbo and it fitted her son perfectly, I chose the same yarn as I thought this would make a lovely present for my five-year-old godson. And - TA-DAH - our old friend gauge had a surprise waiting there! I seem to have considerably looser hand on colourwork than Terhi. My hat fits me, not a five-year-old! :( But the pattern is great and easy to work, so I have already some Gjestal Nagano and 3.0 mm circulars waiting there for me and my godson's hat. Last week before Christmas is always the best for Santa's little helpers, isn't it?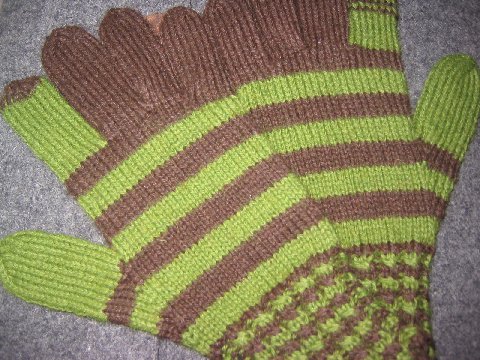 Gloves
Pattern: my own, nothing special. Twisted rib on the cuffs. Should fit a bigger man.
Yarn: "Riina", Norwegian wool blend (47% wool, 47% viscose, 6% acryl) from Salvation Army flea market, one of my best sources of budget yarns. One ball of each colour.
Needles: 3.5 mm dpn's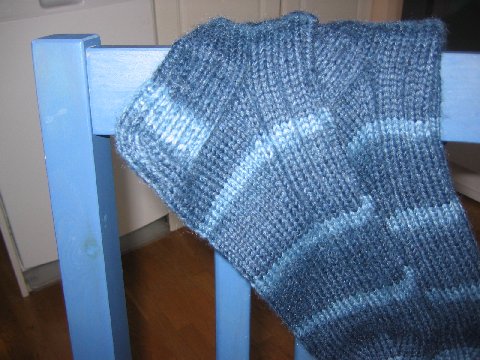 TIMO Socks
Pattern: same as in Lauri socks. Size 42-44.
Yarn: Novita 7 veljestä moniraita
Needles: 3.5 mm dpn's.
These are either for my dad or my brother. I still have one pair of socks on needles, so it depends on them which pair is for which recipient.